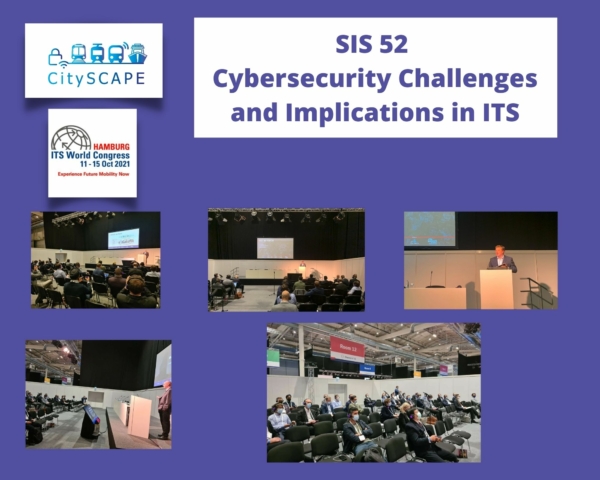 During ITS World Congress 2021, CitySCAPE organised its first special session. The SIS 52 entitled 'Cybersecurity Challenges and Implications in ITS' was held on 13 October at 14:00 and was organised by our project coordinator, ICCS. The ITS Congress is the biggest event focused on smart mobility and the digitalisation of transport. The Congresses are the yearly celebration of smart mobility: they underline the importance of Intelligent Transport Systems (ITS), particularly in cities and regions where they are hosted, and are important channels to raise awareness of smart mobility solutions among policy makers, experts and the general public. They include live sessions where industry experts present the latest developments in ITS, a showcase of cutting-edge technology and an exhibition space.
During CitySCAPE session, the need of a more cyber secure transportation system was presented and discussed, focusing on challenges and issues that need to be studied to address the growing needs of the ICT infrastructure.
The distinguished participants from Arilou Automotive Cybersecurity , UPRC of the University of Piraeus , the Transport Department of Tallinn and ICCS gave interesting presentations which intrigued the attendants' interest and caused fruitful discussions.
Photos are available here